Holocaust Project and the Legacy of Genocide
Thursday May 4, 2023 – December 2023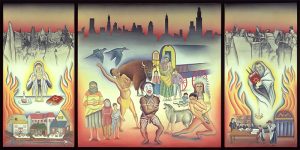 Between 1985 and 1993, Judy Chicago and Donald Woodman created a unique body of art combining painting and photography that explored the subject of the Holocaust, a subject that is largely absent from contemporary art (outside of the Jewish community). In 1987-88, they traveled to France, Germany, Austria, the Czech Republic, Poland, Russia, Israel and Japan (to explore the consequences of our use of the atom bomb), a journey that is chronicled in the panels on exhibition. During that time, they made many discoveries, the most startling was the fact that the Holocaust was viewed quite differently in many countries; in the U.S., most Holocaust presentations focus on the Jewish experience of genocide and suffering.
The result of their travels was that their perspective gradually widened to include genocidal actions directed not only towards Jews and Gypsies but to other peoples (like native peoples here) and also, species (can not the deliberate destruction of millions of buffalo be considered genocide?). Moreover, as we watch tyrannical leaders (think; Rwanda, the former Yugoslavia and now, the Ukraine among many others) kill hundreds of thousands of people out of a quest for power equal to Hitler's, it seems increasingly difficult to isolate the Holocaust from a tragic history that dates back to the Inquisition when Jews were targeted and forced to make their way to New Mexico in order to escape persecution and death and in the process, becoming what are now called crypto Jews.
This show is intended to raise important questions about the human capacity for evil and how to choose hope in a world that seems increasingly dark.